Viewing Listing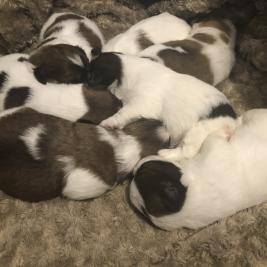 8 weeks old

I have seven adorable puppies born on the 2nd May 2019. 3 Boys and 4 Girls!

One girl on hold
6 puppies now available (3 boys and 3 girls)

Refer to individual puppy photos. The first 3 individual photos are boys. The last individual photos are girls. Mum and dad photos are towards the end.

Mum is a pure Shih Tzu, and Dad is a Shih Tzu & Jack Russell cross. This the first litter of my two beloved dogs. Mum and Dad are both very affectionate and loyal sturdy small breeds. Mum is brilliant, confident and loves to snuggle. Dad is charming (ladies first!!), and he is always down to play and have a lot of fun.

All puppies are developing well, and it has been a fascinating experience watching them reach each milestone. All pups are up to date with vet flea and worming treatments. They have had their first 8 weeks vaccination.

All puppies are gentle, playful and love cuddles. Toilet training is progressing well. Indoors they like to go on dog pads and they immediately go once they are outside.

They have been weaned off from Mum. They are being fed on high premium puppy food and love to drink water.

These beautiful pups are now ready for their new forever homes!

Unconditional love! That's what's so beautiful about a dog! You are going to wish you got yours earlier; I know I did.
Price: $1,300
---
Contact Information
---
---
---
Message the Seller
---
This Ad has been viewed 309 times.