Viewing Listing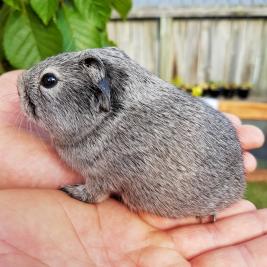 Based in Taupo.

I am an experienced, reputable hobbyist breeder who can give you a lifetime of advice. My guinea pigs are my much loved hobby and I breed to cover the costs of feeding my clan! Rest assured that these animals come from a loving home where they are very well cared for.
I have for sale 8 beautiful babies, 5 girls and 3 boys.

They are varied colours and some crested: silver, cream and chocolate agoutis, all black and mostly black.

Females: Both light silver agoutis, all black with golden front right leg, cream agouti & all black.

Males: Crested black with tiny white fleck within the crest, all black satin boy & chocolate agouti with ridged abysinnian fur and white back foot.

Guinea pigs make excellent house or garden pets, naturally being very inquisitive, cheeky, fascinating to watch and great for keeping you company. They are 10 times better to watch than the tv! They are happy to be handled and equally as happy to just be left and admired, they almost never bite and are inexpensive to keep (in small numbers!)
It amazes me that some people after a short while re-home their guineas for "not giving them the time they deserve" as I say, they are perfectly happy being left untouched, as long as 10 minutes a day are spent giving fresh water, topping up the hay and pellets and chopping them fresh fruit and veggies.

My pigs run big clean spaces, are well cared for & fed a varied high vitamin C diet.

$10 deposit secures. $30 each or same sex pairs for $50. Forever homes please. Ready from 24.2.20 onwards. They can be reserved for specific dates/ birthdays, anything can be arranged for the right home 🙂 I am away until 23.2.20 and unfortunately my husband won't have time for viewings so viewings are welcome after then.
My number is 0277643101 if you would like to get in touch or need any advice.
Price: $30
---
Contact Information
---
---
---
Message the Seller
---
This Ad has been viewed 63 times.