Viewing Listing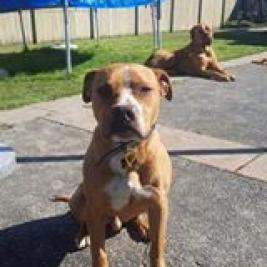 LUDO IS LOCATED IN THE WELLINGTON AREA

Ludo is a smaller sized staffy X pound rescue, Brother of Lulu. He is approx 7 months old and wont be a very big dog. Ludo is friendly and good natured and will be a nice family pet and companion.

Being home alone all day while his people work, is not the right home for a dog like Ludo, he needs some daytime company and plenty of exercise. Another dog for company would be ideal.

Excellent fences and gates are necessary, and a property check will take place.

We have had Ludo registered and microchipped, fully vaccinated and up to date with worm and flea treatments. He has been desexed.There is a $300.00 adoption fee to adopt, which helps us towards the costs of the above.
.
As with all ARAN rescue dogs, Ludo must sleep indoors and live inside the house with his family. He must never be kept chained up.

Please complete the form below in the first instance. Thank you.

To fill in an online adoption application please visit:
http://www.jotform.com/aranrescuenz/questionnaire
Or email us at [email protected]

If you would like more information or register interest in fostering, adopting or helping ARAN please follow us on:

Facebook www.facebook.com/AranRescueNZ

or Instagram @aran_rescue

or visit our website http://www.arananimalrescue.org.nz/

ARAN is a registered Charitable Trust.
Price: $300
---
Contact Information
---
---
---
Message the Seller
---
This Ad has been viewed 294 times.