Viewing Listing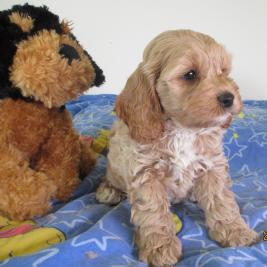 Genuine cavoodle puppies, these are F2, that means that both mum and dad are Cavoodles, they are 50% cavalier King Charles Spaniel and 50% poodle.
Puppies are beautiful metallic golden colour.
We have one boy left in our current litter and he is ready to go on the 27th December.
Photo 1 an older puppy
Photo 2 new born puppies
Photo 3 mum.
Photo 4 Dad.
We ask $500 deposit. sorry no visits until puppies are vaccinated at 7.1/2 weeks, we will send fortnightly photos.
We do this to protect the health of the puppies as this is paramount to us.
Sorry we can not hold puppies until deposits paid.

w w w goldencavoodles.co.nz
Visit our web site to see puppies from our previous litters.
Price: $2,500
---
Contact Information
---
---
---
Message the Seller
---
This Ad has been viewed 484 times.