Viewing Listing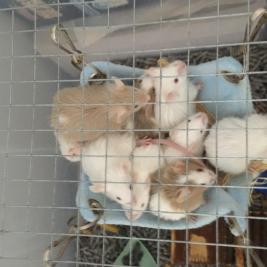 My daughter was worried her male mouse was lonely and put him together with our females, so now we have many little mice. We have loved taking care of them but there are simply too many and we need to send them to their forever homes so they have someone who can spend more time with them. They have been handled everyday but can still be a little skittish at quick movements. Our young boys are 8 weeks old today.

As they are males, they must live alone as they will fight continuously if housed with another male mouse. They will come with their cage, which is a bin turned into a cage and some toys. The only thing you will need to purchase is an exercise wheel for them. An exercise wheel is a necessity for the mental well being of your mouse.

We do have females available as well but as an escapee male got into their cage, they could be pregnant so haven't advertised them here. If you are interested, please let me know.

Ask any questions and thanks for looking.
Price: $10
---
Contact Information
---
---
---
Message the Seller
---
This Ad has been viewed 198 times.